Welcome to this Here pirate blog hop!

Every Blogger Buccaneer in this here Hop has a piece of the treasure map! You'll need to "collect" each piece and put them together in the right order to find the treasure! Because there are 39 scurvy pirates running amok with 39 pieces o' the map to collect you'll want some parchment and a quill to keep track with! 37 pieces will guide you to the hidden treasure (by spelling out the URL where you can enter to win!) and there are 2 bonus pieces with the "secret passwords" to get two chances to win some pirate booty!
Pirate Hat (sandwich), Sticks (pretzels), Cannon Balls (black olives), Golden Booty (jello).
My golden chunks of booty!
This here's my piece o' the map!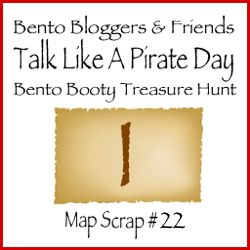 Now click on the pirate button below to hop on over to Lise at Veggie-Bento.
Admire her lunch and collect another map piece!
Good luck, Mateys!